Tips for a Successful PopUp
Over the years we have seen many types of PopUps. Most have been wildly successful, smashing their goal. But some never take off and don't realize their full potential. As it turns out, there is a formula to creating a successful PopUp.
Create a simple and effective description
Make it eye-catching
People are busy. To cut down on time, they scan pages instead of reading the entire description. Make sure you bring important information to their attention by catching their eye. We give you the ability to change the size and color of your text. Use this feature! If there is an important sentence, highlight it. You can even change the alignment of the text to bring more attention to information. Using these simple tools can make a difference.
Use fewer words
I know you want to give ALL of the information but again, people are busy. Make sure what you say is short and sweet but still full of information. A helpful tip is to write your description and then reread and delete filler words and extra information.
Also, think about if your buyers need the information immediately or if it can be given after they purchase. If your buyers don't really need some information until they buy, then leave that information for the 'Note to Buyers' section at the bottom. This way you aren't cluttering up the PopUp description with details that are only important after the purchase.
When you include extra information in the 'Note to Buyers' section, it allows buyers to revisit and save the information along with their emailed receipt. (Ex: directions to a venue, or instructions on the next steps that need to be taken.
Set a deadline
Buyers will scroll right past and forget about your PopUp if you don't give a clear deadline. Creating a deadline is vital and lets buyers know that this is something that will not always be around. All of us push purchases and activities off, if you do not give a deadline, buyers won't realize they need to act.
Give buyers time
Sending out a PopUp with a deadline of less than a week almost ensures that your PopUp will struggle. Buyers need time, give them a moment. On the other hand, you also don't want to give them too much time. My favorite length 2 weeks. Enough time for people to think about it, but not enough time for them to completely forget about it.
---
This leads us to the most important tip…
Promote, Promote, Promote!
No one will know about your PopUp unless you tell them about it! You need to reach out a minimum of 3 times on multiple platforms. Email, newsletters, websites, Facebook, Instagram, group texts, etc. Include every social media channel your group uses.
We are all bombarded with information 24/7 and things can get lost in the scroll. Just because someone didn't go to your PopUp the first time you promoted it, doesn't mean they don't want to. There have been more times than I can count where I have posted almost daily about an event and people still ask where the link is because they don't want to go look for it. Don't make them work to find you. Make it simple for buyers by continuing to post and promote.
Including a social media countdown can also help, pointing out your deadline and how much time buyers have left to act.
Looking for more information on how to create the best PopUp or the various ways PopUp Funds can be used? Download our ebook to get a deeper look into how PopUp Funds can work for you.
How to Raise & Collect Funds Online: Schools & Organizations
Fundraising ideas, how to easily collect for school events, classroom gifts and more. How to simplify and get it all done.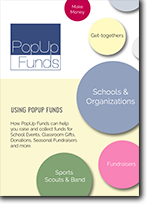 Download our FREE booklet "OUTDOOR MOVIE NIGHT How to host an amazing movie night that creates community and makes money" and sign up for our free eNewsletter.
Complete the information below.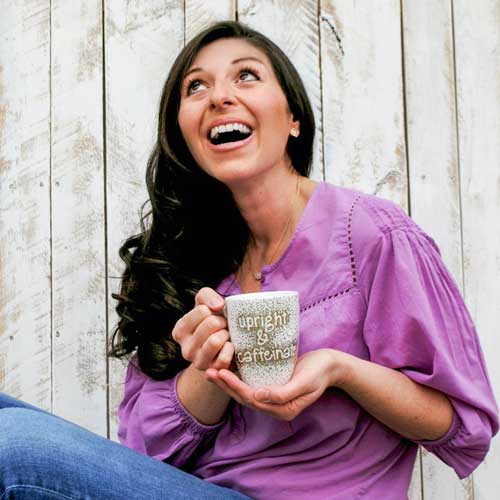 PopUp Funds made my life easy when I hosted a crafting party...PopUp Funds website was very professional, and the dashboard was very easy to navigate. I also loved that I could easily share the event through social media!
— Allison, Upright and Caffeinated
Sign Up for Our Newsletter
Get our latest news, great tips, and other helpful information.