Personal Pages for Group Fundraisers and Monetary Donations
When fundraising season rolls around, a popular idea is to host a donation drive. Fun runs and swim-a-thons can be tied to donations, but groups often decide to skip the extra work and ask for monetary donations.
Monetary donations are great because you aren't trying to convince others to buy wrapping paper or yet another shopping bag. You simply ask for a small amount of money to support your cause without cluttering up someone else's house with needless stuff at the same time. And, your group gets to keep a lot more money!
Bonus: If your group is a 501c3 then some or all of the donation is a tax write-off for your donors!  See our article on how to give tax information to your donors.
The most successful fundraisers typically create a sense of community and competition among those that are fundraising. (PTO Answers has a great video on how to get kids excited with incentives.) Platforms that let each student or athlete create their own page come in handy by helping you keep track of how much money is raised by each person. The downfall is when the time comes to pay for the platform. Many of these platforms take a very large percentage of the funds you raise, sometimes up to 45%! Others don't even tell you how much they will take until they see how much money you raise.
How to Raise & Collect Funds Online: Schools & Organizations
Fundraising ideas, how to easily collect for school events, classroom gifts and more. How to simplify and get it all done.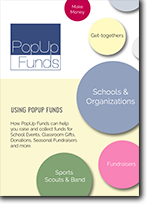 Raise Money/Pay Less Fees with Monetary Donations
If you are trying to get an entire school involved or have a very large group, using a larger more expensive platform is probably worth it. But, if you are a small group like a basketball team or a scout pack of 15, every penny you raise makes a big impact and the website or software platform that hefty can be overkill
Our platform/transaction fee is a flat 7.9% + $.45 (per transaction). The fee payment is up to you. Pay the fee or pass the fee on to your donors.
PopUp Funds can easily be used for your small group while also allowing each individual to have their own fundraising page. All it takes is a little creativity. This same setup can be used whether you are simply raising money or if you are selling tangible items. It works especially well if each individual is in a competition with each other. (Ex: Who can sell the most discount card, or t-shirts.)
Account Signup
To start, create an account with PopUp Funds linking to your organization's account.
Tip: Use an email address that you use exclusivey for your organization, or general organization email address so that the account can easily be transferred in the future.
Ex: president@yoursoccerteam.org
If needed, personal accounts can also be used.  For more information on what type of setup will work for you, please read our article on setups for organizations.
---
Primary PopUp
Create your primary PopUp. The primary PopUp will be the one copied multiple times, to each person's individual page. Take your time and make sure to include all the information needed including the Extras section.
---
Copy Primary PopUp
After you have created the perfect primary fundraiser PopUp, simply go to your dashboard and click "Copy" below the primary PopUp. This will automatically create and take you to the new copy. From there you can change the name of the PopUp and customize it for each person. In addition, photos can be changed and personalized. 
---
Share
Share the individual PopUp by clicking on Go Live and sharing the PopUp link with the individual who's fundraiser page you just created. From there, they can share any way they prefer: text, email, social media.
Repeat this action many times as needed.
Tip: A great way to keep everyone in the know is to send out daily or weekly summary emails.
As soon as your organization starts sharing and collecting donations, a quick glance at your dashboard will show how much each individual has raised.
Are you looking for even more fundraising or collecting ideas? We have loads of them in our Resource section.
Download our FREE booklet "OUTDOOR MOVIE NIGHT How to host an amazing movie night that creates community and makes money" and sign up for our free eNewsletter.
Complete the information below.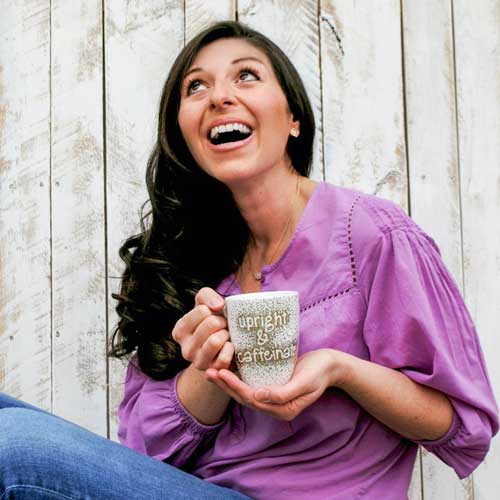 PopUp Funds made my life easy when I hosted a crafting party...PopUp Funds website was very professional, and the dashboard was very easy to navigate. I also loved that I could easily share the event through social media!
— Allison, Upright and Caffeinated
Sign Up for Our Newsletter
Get our latest news, great tips, and other helpful information.