How Small Organizations Can Use PopUp Funds
As a mom, I developed PopUp Funds to help me personally. I was in charge of different types of collections for different parts of my family's lives, and I struggled to keep it all straight. Between little slips of paper with messy handwriting, envelopes filled with cash, spreadsheets, parents asking if they had paid, and requests to accept no less than five different forms of payment, it got to be too much to handle. On top of that, it was very easy to make a mistake, and I felt like I was at risk of someone calling the finances into question.
PopUp Funds helps solve a lot of these issues. Everyone pays online and you can see who has paid and any other information needed. A spreadsheet is also provided for each PopUp to help you keep track. Above all of that, you have a very clear trail of where the money is and how much was collected. People who have paid also receive an emailed receipt for their records. This is why PopUp Funds has become a great solution for small groups!
There are numerous websites and applications out there for PTA/PTOs, booster clubs and other organizations to use.  But many of them have a yearly or monthly fee, making it hard to justify if you are only using it a few times a year or simply do not have the funds to front the subscription costs. Many organizations are running on shoestring budgets and cannot take on the overhead. This is where PopUp Funds is helpful. There are no monthly or set up fees. Fees are only taken on what you collect, and even then, you can add that into the overall cost to cover the fees.
Tips for Using PopUp Funds for your Organization
Decide what bank account your organization will connect to.
Using an organization's bank account:
If you have a bank account dedicated to your organization, you can allow for more than one PopUp Funds account holder to connect to it. This is helpful if you have multiple small groups that funnel into one large organization. Each small group can have their own PopUp account but connect to the same bank account on the back end, allowing the organization's treasurer to see and control the final deposits.
When using an organization's bank account, the PopUp account user will be asked to submit the last 4 digits of the SSN at some point. Please see our FAQs for more information about this.  Wondering why you are being asked for more information? Our FAQs explain the policy.
Using a personal account:
If you are a parent linking your PopUp to a personal account, DO NOT share your PopUp Funds login with anyone else. You are still using your personal information and as always, that should not be shared with others.
Create a dedicated email and login.
Smaller groups connecting to an organization's bank account may benefit from creating an email address dedicated to your PopUp Funds account or fundraising/money in general. That way it can be shared with others who are approved and those who may also need access or even have this passed to someone else from year to year.
Be transparent.
The best thing about moving all of this online is that you can easily show simple documentation of who paid what and when.
How to Raise & Collect Funds Online: Schools & Organizations
Fundraising ideas, how to easily collect for school events, classroom gifts and more. How to simplify and get it all done.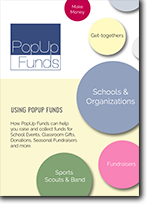 Have more questions?  Our Resources page or FAQs might help.
Download our FREE booklet "OUTDOOR MOVIE NIGHT How to host an amazing movie night that creates community and makes money" and sign up for our free eNewsletter.
Complete the information below.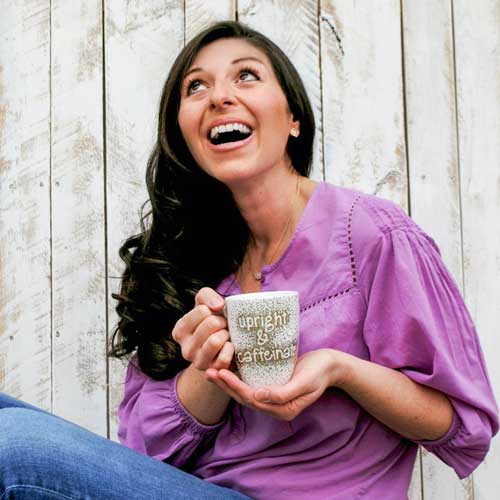 PopUp Funds made my life easy when I hosted a crafting party...PopUp Funds website was very professional, and the dashboard was very easy to navigate. I also loved that I could easily share the event through social media!
— Allison, Upright and Caffeinated
Sign Up for Our Newsletter
Get our latest news, great tips, and other helpful information.