Get your Booster Club Organized
Keeping a booster club organized and efficient when it is run solely by volunteers is difficult. Especially, when volunteers hold a position for only a year or two. There are typically multiple times in a year the treasurer needs to collect money. Except, many times the treasurer is not the one in charge of each sale, fundraiser, or collection. Typically with each activity, a different volunteer is in charge. This makes it hard to keep track of everything and allows for lots of human error.
Get your booster club organized with PopUp Funds help.
Designed to be simple so that there is little to no maintenance.
Your club doesn't need to have a web expert on hand to update and keep track of an e-commerce system. You can keep your Facebook page and simple website, then simply add your PopUp URLs when needed.
Run multiple PopUps at the same time.
Do you need a separate storefront for students in their senior year? Or different storefronts for varsity and jr. varsity?  You can make as many as you'd like and have them active at the same time. Having multiple PopUps can help you organize and allows for a simpler checkout for your members. Each member goes to the PopUp that pertains to them instead of having to scroll through a huge storefront that involves more than they need.
PopUp Tip: If you want to make sure that everyone can get to their correct PopUp, you can include the links to other PopUps within the PopUp description. That way, if they realize they are at the wrong PopUp they can easily find the PopUp they need. 
How to Raise & Collect Funds Online: Schools & Organizations
Fundraising ideas, how to easily collect for school events, classroom gifts and more. How to simplify and get it all done.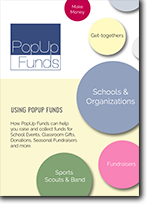 Control everything from one dashboard.
View and edit all of your PopUps on one dashboard. From there, you can access each person's order, see an overview of each PopUp, refund orders, and create new PopUps. You can also copy and update existing active or inactive PopUps, making it easier to transfer the volunteer position from year to year. Easily see what volunteers have done in previous years and edit from there.
Directly links to your club's bank account for easy deposits.
All of the club's money is collected for you and deposited into an account that you attach to your PopUp Funds account. Typically, clubs and boosters have a bank account where all money is held. Volunteers no longer need to collect money through multiple streams. Everyone checks out online allowing your treasurer to document more accurately. Everyone that checks out receives an emailed receipt, giving both you and the buyers documentation of what was purchased. Having an easily accessible way to see who has purchased what comes in handy when there are disputes.
---
---
Going online boosts sales.
We have talked with groups that have put their yearly fundraiser or sale online and saw their sales double. All because checking out online is easier for busy parents. Writing a check or paying cash it creates more mind clutter and the task pushed to the side. There have been numerous times I will have a flyer sitting on my kitchen counter that I keep meaning to get to and then find out that I missed the deadline. Giving an URL to use, parents are able to finish the task in a minute or two while waiting in line somewhere. Putting your sale, fundraiser or yearly dues online helps everyone out.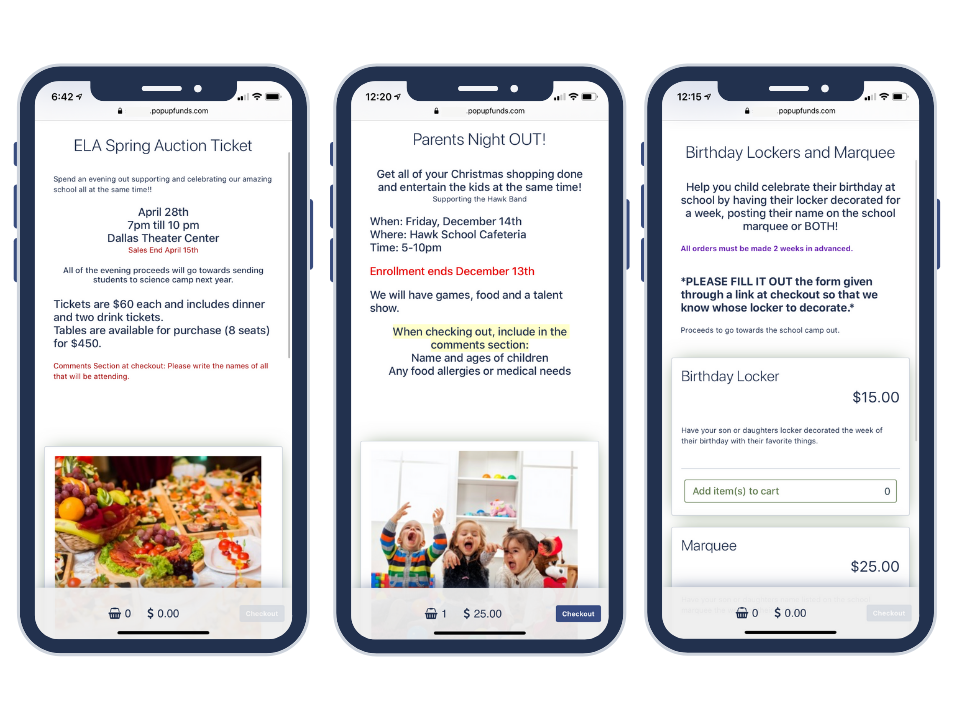 Are you ready to find out more? We have a great Resources section with tips and tricks.
Download our FREE booklet "OUTDOOR MOVIE NIGHT How to host an amazing movie night that creates community and makes money" and sign up for our free eNewsletter.
Complete the information below.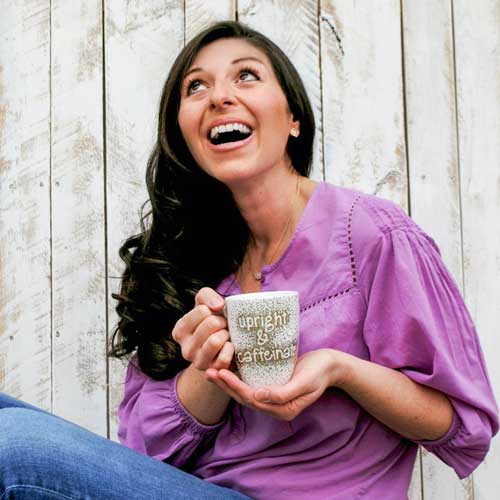 PopUp Funds made my life easy when I hosted a crafting party...PopUp Funds website was very professional, and the dashboard was very easy to navigate. I also loved that I could easily share the event through social media!
— Allison, Upright and Caffeinated
Sign Up for Our Newsletter
Get our latest news, great tips, and other helpful information.